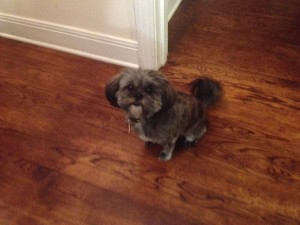 http://dogvacay.com recently asked me to write about how my dogs represent Austin for Adopt-a-Dog month.  I thought Millie was perfect since it is her one year adoption anniversary.  I wrote a bit about her on her anniversary in November.
Austin is very dog-friendly and is known for its multitude of shelters, rescue groups, well-maintained dog parks, and beautiful greenbelts.  I found Millie at a city animal control center (pound) just north of Austin.  I went for a cairn terrier like my Gladys but came home with a shih tzu.  I knew nothing about the breed and boy was I in for a ride with Millie!
I quickly found out that Millie is a runner.  In the process of finding out I did get a cute shot of her playing in the greenbelt near our home.  Because she's a runner I can't let her off-leash so I'm very grateful for all of the wonderful dog parks in Austin!
http://dogvacay.com/Austin-TX-Dog-Boarding
**cute greenbelt and dog park photos will be added